The Affair at Grover Station
by NJB // // Broomfield, CO
© 2023 Nantucket E-Books LLC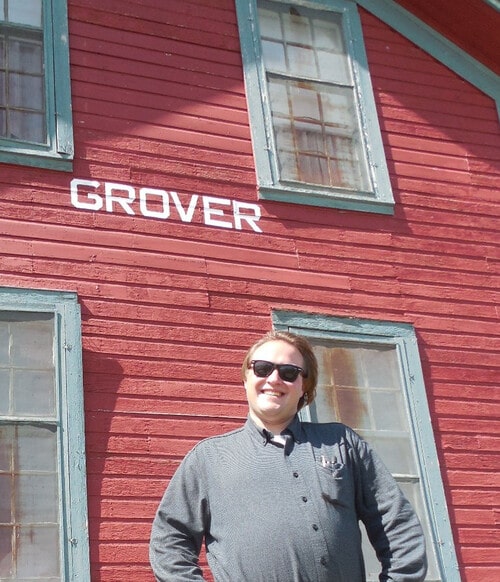 On Saturday, August 26, I spoke at the Grover Depot Museum in Grover, Colorado. Grover is a small town in the Pawnee National Grasslands of northeast Colorado. I was invited by the Pawnee Historical Society to give a live reading of the Willa Cather short story The Affair at Grover Station.
You can read the short story for free on this platform at nantucketebooks.com/groverstation, featuring a built-in audiobook from Librivox.
The story is narrated by "Terrapin" Rogers, a railroad employee investigating the disappearance of his friend Lawrence O'Toole, the station agent in Grover. A strange event gives him the critical clue in solving the mystery. Grover Station has all the hallmarks of Cather story: the pioneer towns of the Great Plains, rich descriptions of the landscape, and an examination of the characters place, or lack of place, within that landscape.
I had a lot of fun reading this classic ghost story next to the actual setting of the story. The volunteers from the Pawnee Historical Society were wonderful, giving me a tour of the depot beforehand. A tent was set up to shield the audience from the sun, and lemonade was provided. I sold copies of my work and Buffalo's Tales of a Metal Fisherman, proceeds went to the Pawnee Historical Society.
Grover is a fun town. It is one of the most remote towns in Colorado, 22 miles to the nearest highway; it is also home to the smallest rodeo on the professional circuit, held each Father's Day. I had a blast coming up to do the reading, and hope to do it again.
SHOW/HIDE COMMENTS

No comments yet.
WANT TO COMMENT?

SEND AN E-MAIL TO NJB@NANTUCKETEBOOKS.COM WITH THIS SUBJECT LINE:
BACK TO BLOG LIST
---
CONTACT
E-mail: njb@nantucketebooks.com
Mastodon: @nantucketebooks@fosstodon.org
Twitter: @nantucketebooks
IRC: irc.libera.chat#nantucketebooks
PO BOX 305
HENDERSON, CO 80640